Back to all news
Wilmington Police host Coffee with a Cop event
By Lizzy Hill, Wilmington Town Crier
Original article HERE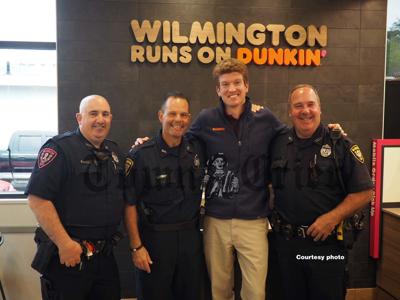 Last Wednesday, Oct. 2, the Wil­mington Police De­part­ment teamed up with three coffee places in town to host "Coffee with a Cop" in honor of Na­tional Coffee with a Cop Day. The event invited residents to have a chance to bring concerns or just get to know Wilmington's police officers over a cup of coffee at Cumberland Farms, Panera Bread, or at Dunkin' throughout the morning.
National Coffee with a Cop Day is a national day "dedicated to encourage conversation between law enforcement and the com­munity," according to a Dunkin' media alert.
Dunkin' at 357 Middlesex Ave. business owner Adam Quinn shared via email, "We wanted to host an event where Wilmington police officers were able to join Wilmington residents in an informal setting."
He was happy for his store to provide a space where open and casual conversations could happen over a cup of coffee.
The goal of the event was to give community members the opportunity to make meaningful connections with their local law enforcement.
"We hope, and found out, that customers came in to these locations and felt comfortable engaging in small, informal conversations," Wilmington Detec­tive and Community Liai­son Ronald "Butch" Al­phers wrote in an email. "Our goal is just to make people feel comfortable."
Alpers hopes that by making themselves ap­proachable, residents will continue to reach out to the police department with­out apprehension.
Quinn said that participating in this event works to strengthen the people of Wilmington's relationship with their police department. Besides creating con­versation, Dunkin' wan­ted to participate in this event because they value the work that the police have been doing.
"National Coffee with a Cop Day is about appreciating the presence of the police force and their daily grind (pun intended)," Quinn wrote. "The Wil­mington Police De­part­ment has been keeping my restaurant safe for over 20 years; hopefully we can partially return the favor by keeping the WPD runnin' on Dunkin."
WPD's coffee hop started on Wednesday at Cum­berland Farms at 205 Main St. Next, they stop­ped at Panera Bread at 228 Main St. Between 10 a.m. and 12 p.m. Finally, a Wilmington officer sat at the Dunkin' at 357 Middle­sex Ave. in Wilmington talking to whoever came by. WPD and their guests received complimentary coffee and munchkins.
Alpers mentioned that, "one customer, in particular, told us how she moved to Wilmington, where she was from, how happy she was to see us."
He shared that the police department enjoyed connecting with residents and hearing their stories.
Dunkin' hopes to host more Coffee with a Cop events in the future as part of their aim to help foster relationships be­tween the people of Wil­mington and their law enforcement.