Fifth Annual National Coffee with a Cop Day
Wednesday, Oct. 7, 2020
National CWAC Day in a Nutshell
National Coffee with a Cop day is a day dedicated to encourage communication and positive interactions between law enforcement agencies and the public.
The day began as part of National Community Policing Week in 2016 and now continues each year on the first Wednesday in October furthering efforts nationwide to bridge the gap between the community and the law.
"Coffee with a Cop is community policing at its core. The simple act of having a cup of coffee with community members can be the first step in increasing trust and cooperation between the police and the people they serve," said former COPS Office Director Ronald L. Davis.
Our next event is set for Wednesday, Oct. 7, 2020.
September 23, 2020
Hello everyone,
I think we can all agree that the last six months have been some of the most challenging times we have faced in our careers. I can only imagine some of the violence and protests your agencies have had (and continue) to respond to. I hope you are all doing as well as can be during these difficult times.
Despite all of the chaos and violence, it is inspiring and humbling to see officers and staff doing their best serving our respective communities. We have also noticed (unlike in the past), how many people have gone out of their way to thank the officers. This gives us the energy and boost to "keep on keepin' on". I believe this is the result of all of our community policing efforts we have invested in.
With everything that is going on, we have decided to cancel/postpone the 5th Annual National Coffee with a Cop day scheduled for Wednesday, October 7th, 2020
However, all parts of the country (and world for that matter) are in different stages of re-opening. It is up to each agency to decide whether to hold an event, hold one virtually, or postpone. We just won't be promoting the National day as a whole.
I hope we can get out there as soon as possible and hold CwC events in person again. As you may have experienced at your agencies, these events are sometimes more important for our officers than the community. It is important that our line-level patrol officers have an opportunity to meet regular folks and have a normal conversation. CwC is the event that allows us to do that.
We believe CwC events will be the event that kickstarts our community policing events once the pandemic is over. I am looking forward to that day.
Thank you again for stepping up during these uncertain times. Please reach out if you have any questions or comments. mike@coffeewithacop.org
Be safe,
Michael Ishii
Chief of Police, Administrator for the CwC non-profit organization
Hawthorne, California
www.coffeewithacop.com
Grassroots That Grew Fast
National Coffee with a Cop Day grew out of the casual coffee conversations held in 2011 by the Hawthorne (California) Police Department, which quickly spread throughout the country and then the world. The simple idea for building better relationships with community members caught fire, with other police and sheriff's departments jumping into the initiative without the need of formal directives.
Firm belief in the value of the initiative by the Hawthorne Police Department and later support and encouragement from the Department of Justice has allowed the grassroots initiative to gain enough momentum to be in all 50 states and nine countries, with no plans on stopping there. With the goal of open, honest communication without the influence of agendas or speeches, citizens everywhere could benefit.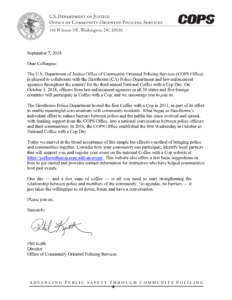 Join the National Coffee with a Cop Day Festivities
We encourage and welcome all law enforcement departments to set up a National Coffee with a Cop day event each year. Host an event in your area, invite the public to join your officers, and help build trust and establish relationships.
Are you a coffee shop, business, or organization that wants to participate? Contact a police, sheriff, public safety, or other law enforcement department in your area and offer to partner. Let them know that there is community support and interest for participating. (And don't let it stop with National Coffee with a Cop Day. Discuss other events throughout the year!)
Get the Word Out
Once an event is set, add it to our Coffee with a Cop calendar to help get the word out. Don't forget to add it to your department website, local event calendars, and social media. (We've got a Facebook and Twitter promotion to get you started.)
We also have a press kit available to download, customize and assist you in promoting your event locally. There are also flyers to print and distribute around your area letting the community know the specifics.
Want something to hand out in addition to coffee at your event? Visit the Coffee with a Cop store for National Coffee with a Cop Day pins and stickers or other Coffee with a Cop swag.
Calling All Community Members
We're loving the participation we've been seeing at all Coffee with a Cop events as well as the inaugural National Coffee with a Cop Day, but we always want to see it grow. Visit our Coffee with a Cop calendar and find a location near you to attend. Bring a friend. Send out a social invite. Make plans with your office. Make it a family outing.
Don't see an event near you? Encourage your local law enforcement agency to set up an event. Sometimes all it takes is a little ask. You'll be helping yourself and your neighbors.
Here's What Others Are Saying About National CWAC Day
"We have been involved with Coffee with a Cop since 2013, and it has been a great tool for our department to connect with the community. We had a local radio station partner with us, and they do a live remote with us every Coffee with a Cop. This has allowed us to reach tens of thousands of people every month, and our community really appreciates the accessibility that Coffee with a Cop gives them to both our department and officers. For the first National Coffee with a Cop Day, we held six separate Coffee with a Cop's across our city simultaneously."
"National Coffee with a Cop Day is a great opportunity for police to get out and meet with community members and just get to know each other in a human level."
Officers, Add an event
Are you hosting a Coffee with a Cop event? Send the event details and get it posted.
Add an event
Attend an Event
Interested in attending a National Coffee with a Cop Day event? Search for an event near you.? Let us know how it went.
Find Event