Building relationships. One cup at a time.
Coffee with a Cop brings police officers and the community members they serve together–over coffee–to discuss issues and learn more about each other.
Our Mission
The mission of Coffee with a Cop is to break down the barriers between police officers and the citizens they serve.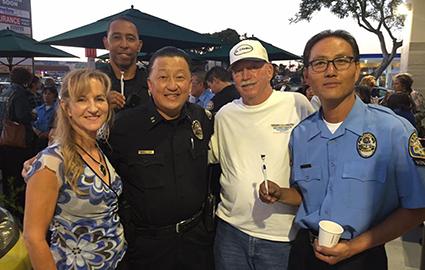 In Person
Taking time to meet at neutral locations provides the opportunity for real conversations about issues that matter.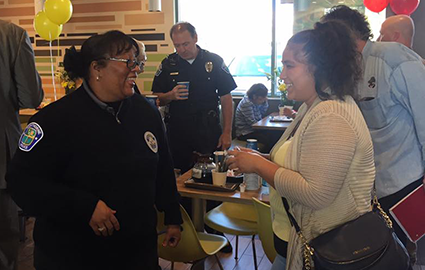 Casual Atmosphere
Coffee with a Cop events take place at local restaurants. Community residents can sit down with officers and ask questions or share what's on their mind.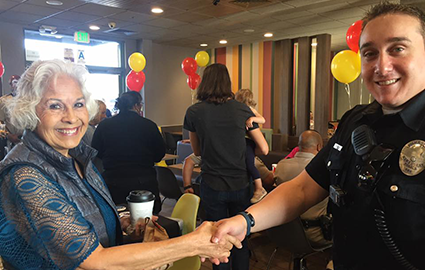 Building Trust
In a short time, citizens and police officers get to know each other and discover mutual goals for the communities they live in and serve.
See Our Mission in Action
Fifth Annual National Coffee with a Cop Day
Wednesday, Oct. 7, 2020
National CWAC Day
National Coffee with a Cop day is a day dedicated to encourage communication and positive interactions between law enforcement agencies and the public.
The day began as part of National Community Policing Week in 2016 and now continues each year on the first Wednesday in October furthering efforts nationwide to bridge the gap between the community and the law.
Sign up to be reminded of Fifth Annual National Coffee with a Cop Day.
---
September 23, 2020
Hello everyone,
I think we can all agree that the last six months have been some of the most challenging times we have faced in our careers. I can only imagine some of the violence and protests your agencies have had (and continue) to respond to. I hope you are all doing as well as can be during these difficult times.
Despite all of the chaos and violence, it is inspiring and humbling to see officers and staff doing their best serving our respective communities. We have also noticed (unlike in the past), how many people have gone out of their way to thank the officers. This gives us the energy and boost to "keep on keepin' on". I believe this is the result of all of our community policing efforts we have invested in.
With everything that is going on, we have decided to cancel/postpone the 5th Annual National Coffee with a Cop day scheduled for Wednesday, October 7th, 2020
However, all parts of the country (and world for that matter) are in different stages of re-opening. It is up to each agency to decide whether to hold an event, hold one virtually, or postpone. We just won't be promoting the National day as a whole.
I hope we can get out there as soon as possible and hold CwC events in person again. As you may have experienced at your agencies, these events are sometimes more important for our officers than the community. It is important that our line-level patrol officers have an opportunity to meet regular folks and have a normal conversation. CwC is the event that allows us to do that.
We believe CwC events will be the event that kickstarts our community policing events once the pandemic is over. I am looking forward to that day.
Thank you again for stepping up during these uncertain times. Please reach out if you have any questions or comments. mike@coffeewithacop.org
Be safe,
Michael Ishii
Chief of Police, Administrator for the CwC non-profit organization
Hawthorne, California
www.coffeewithacop.com
Learn More

More Than 15,000 Events Worldwide in Six Years
Who is Coffee with a Cop for?
Police Officers
Coffee with a Cop gives you opportunities, outside of crisis situations, to relax and chat with residents in the community you serve.
Learn More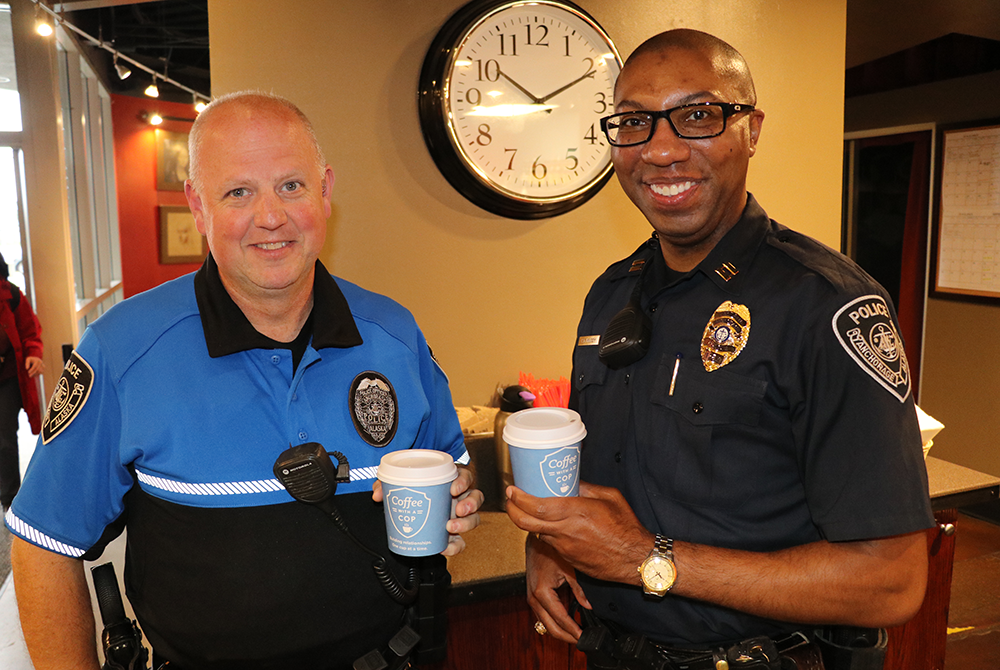 Community Members
Coffee with a Cop events provide access and opportunity for distraction-free conversations with your local police officers.
Learn More