Back to all news
'We get to know one another': Coffee with a Cop event brings together police, community
By Martha Rose Brown, The T&D
Original article HERE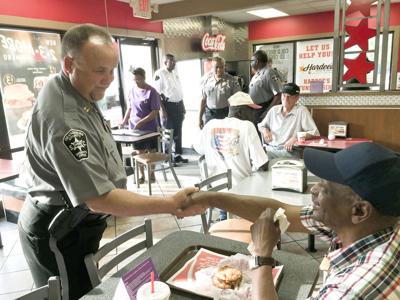 The smell of freshly baked biscuits and coffee wafted through the Holly Hill Hardee's, located on Old State Road, on Oct. 2 as uniformed law enforcement officers engaged in conversations with the town's residents.
It was National Coffee with a Cop Day, held at local restaurants throughout the nation.
The Orangeburg County Sheriff's Office, along with the Holly Hill Police Department, partnered in hosting their Coffee with a Cop event.
"Coffee with a Cop really give the deputies and the community a chance to sit down and talk about issues going on in their community. We look forward to it. We get to know one another," said Sheriff Leroy Ravenell.
"We're proud of our visibility as officers here in Holly Hill and the Coffee with a Cop event provides an opportunity for citizens to talk with us about any topic," said Holly Hill Police Chief Josh Detter.
"We're thankful for the opportunity to partner with the sheriff's office in this great community policing effort," he added.
Lifelong Holly Hill resident James Green said he's thankful for the Coffee with a Cop event. He praised law enforcement for their work in the community.
Green also serves on an advisory committee for the sheriff's office.
He said residents often come to him with concerns, such as reports of suspected drug activity and shootings.
"Ninety-nine percent of the shootings in this area are related to drugs," Green said.
Green is hopeful more community members will support events such as Coffee with a Cop.
The sheriff's office may host the 2020 Coffee with a Cop event in the western portion of Orangeburg County.