Back to all news
Coffee with a Cop aims to spark community conversations
By Jason Vallee, The Chariho Times
Original article HERE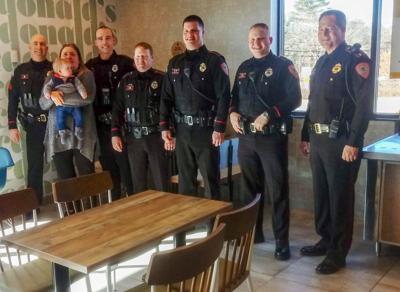 Nothing beats a good conversation over a cup of coffee — and local police are using that motto in an effort to enhance community relations and open a stronger line of communication with the public.
The Richmond Police Department formally held their first Coffee with a Cop event at the McDonald's on Kingstown Road in Wyoming Monday morning, the first of what the agency hopes will be a regular event at various locations throughout the community. The inaugural crowd included a mix of those who knew the officers, regular customers of the restaurant and a few new faces including a few parents who had come with young children to meet an officer.
Police Chief Elwood M. Johnson Jr. said the goal of the program is to help officers create new and foster established connections with local business owners and residents, and in turn to provide an informal and friendly atmosphere for those in the community to ask questions of police.
"This is a program that the Department of Justice has promoted nationwide to help agencies improve community connections," Johnson said. "The officers came to me with the concept and said 'I want to get more involved,' and once they had my blessing, they really ran with it to make it come together."
The concept isn't new and is one that has been embraced in the last few years by area agencies. In fact it was the success of similar local and regional events over the past two years that inspired Richmond Patrolman Michael Ellis to step forward and organize the event.
Ellis, 28, a Hopkinton resident and two-year member of the Richmond Police Department, said the idea was discussed about two years ago when he first joined the agency but for a variety of reasons, it just never came to fruition.
When he approached Sgt. William Litterio about the concept again recently, he said the 16-year veteran was open to the idea and supported Ellis' decision to bring it to the chief.
"When I had started reading about the Coffee with a Cop recently, I learned just how effective it can be as a tool in community policing," he said.
Sitting in the middle of the room as the event was drawing to a close, Ellis was able to point to several areas where citizens were interacting in a cheerful manner with law enforcement.
In one corner of the room, some regular customers had bought their morning coffee and were sharing stories about officers they knew. In another, there were conversations about the weather and the latest construction projects in town. In yet a third area, Johnson was enjoying some chit-chat about all things police, including the origins of the word "cop."
"If you look around … if you take away the uniforms, these are real human interactions," Ellis said. "The officers live and work here as well, and we want to be partners in creating and maintaining a safe community."
The event came together well with the help of Christine Ziegler, store manager of the Westerly McDonald's on Granite Street, as she asked police to set a time and helped coordinate the details of the inaugural event.
Ziegler said the program has been an incredible success in Westerly. So much so in fact that the Westerly Police Department will again partner with McDonald's this Wednesday at 10 a.m.
"That was why I helped here. Since we've started, it's only become more popular," she said. The customers enjoy it. I am always getting questions about when the next one is or when they'll be back. I would bet they'll soon see the same thing happening (in Richmond)."
The efforts caught to the attention of several visitors, including Dave and Carla Simons, who took a few of the younger children they babysit as day care specialists to meet the officers and enjoy the socialization.
The two have had a number of connections to the police department over the years — they said the youngest child in their care, Paxton, is the grandson of a retired Richmond officer — and praised the efforts of those on the force. Both said they believe this will help remove barriers and give residents a chance to learn what it is they do and say thank you.
And if you have a question about something going on in town from a construction project to road work to virtually any other local changes, Dave Simons said with a smile that these are just the guys to ask.
"This is really a great opportunity for someone to get to know them in a friendly setting and learn about everything they do," Carla Simons said.
Ellis and Johnson both said the department hopes to make the Coffee with a Cop program more of a regular occurrence. Each said they've already spoken with other business owners as well, including High Grounds in Wyoming, and hope to offer a variety of locations and times.
As the department works to schedule these in the future, Ellis said local residents with ideas on the best locations or times or those who may have other ideas for interactive community programs are welcome to call him at 401-539-8289 or email him at mellis@richmondpd.org.
"We don't just want to host something," Ellis said. "We want to make sure what we are doing is meaningful and that everyone who wants to can have an opportunity to come chat with us. That is our goal as we schedule these future events."