Back to all news
Coffee with a Cop
By Murray Ledger & Times
Original article HERE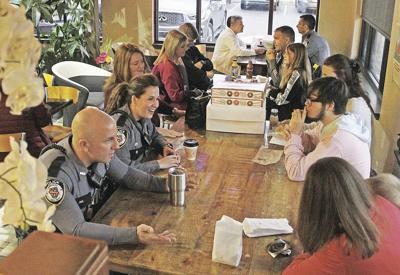 The Murray Police Department held its semi-regular meet-and-greet event Coffee with a Cop Friday morning. As always, the department said it used the event to build a rapport with the public and remind Murray residents they are here to serve them.
"We had a great time meeting so many people this morning at Murray Donuts for Coffee with a Cop," said Sgt. Andrew Wiggins, MPD's public information officer. "We were able to talk to people that live locally as well as some that live in surrounding states. It was great getting to know everyone and to tell them about our department. We feel strongly that us being involved with the community and the community being involved with us helps create trust and allows us to better serve you. Thank you to everyone that came out and talked with us. If you were not able to come out today, we will be holding another event in the coming months."
Wiggins also reminded the public that the upcoming Citizens Police Academy is a great way to learn more about the department. Classes start on April 20, and meet once a week for eight weeks. Anyone interested may call the police department at 270-753-1621 or visit www.murrayky.gov/police/cpa.htm to learn more and get an application.