Back to all news
Coffee talk: Officers meet with residents at event
By Shane Monaco, Killeen Daily Herald
Original article HERE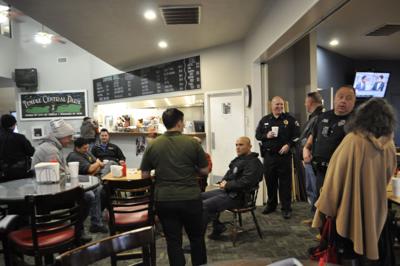 Temple Police officers, under the direction of the City Manager Brynn Myers, will increase their community policing in East Temple, the interim chief said Wednesday.
About three dozen officers and residents gathered in the lobby of the Sammons Golf Course for a Coffee with a Cop event Wednesday held by the Temple Police Department. Officers smiled and laughed with the few residents in an attempt to build relations and grow closer to the community.
Officers at the event said this was a good opportunity to talk with residents and to find out what they care about in their community.
"When you work in, and with, a community, it is easier to police it," Interim Police Chief Jim Tobin said. "The city manager has got us focused on community policing, getting back in the neighborhoods and working with communities to determine what their problems are instead of what we think their problems are."
Officers want to connect with the public by hosting coffee events in East Temple although there are no coffee shops there.
Lt. Brad Hunt said the department has not hosted a coffee event in East Temple but the department might now bring their own so they can interact with more people.
"As the weather gets better, you get a much better turnout," Hunt said. "So, as we get into summer, we are going to talk about thinking outside the box. Maybe we need to bring out own coffee with us and go to the Blackmon Community Center or the Friendship House off of South 30th St."
Hunt said some people only see officers when they are being pulled over or are in trouble, not recognizing that there is a person behind the badge.
Both Tobin and Hunt said community engagement is especially needed right now to show residents that the department does care about residents after an officer-involved shooting of Michael Dean on Dec. 2, 2019. Authorities — the Texas Rangers are investigating the case — still have not released a narrative of the event after two months.
"(The community) needs to know that we are still here and are listening," Hunt said. "There are 154 people in our agency that really care about being here and are not going anywhere. One controversy doesn't stop the need for us to continue to serve and solve problems."
Resident Rosa Hernandez, who dropped into the event for a few minutes, said she appreciated the effort made by the officers to get closer with the community.
Hernandez said she has been to other events with the officers and likes to get to know officers. She said she really believes that the officers do care about the community, with the constant amount of work they put in to protect it even when most are asleep.
"(The officers) being out here shows the support that they have for the community," Hernandez said "This is a way that we can truly get to know them on a different level, not just the uniform. They are real humans and real people with real hearts."