Back to all news
Vision Bank hosts Coffee with a Cop
By Vicki Patton, The Ada News
Original article HERE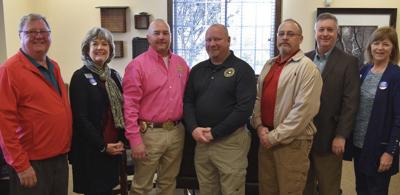 Vision Bank hosted the Ada Police Department's monthly Coffee with a Cop Dec 11. The event was held at Vision Bank's Arlington branch at 1901 Arlington St.
This program allows community residents the opportunity to meet and visit with local police officers in an informal, relaxed atmosphere. The program that started over a year and a half ago aims to build rapport with local law enforcement.
"We were honored to host members of the Ada Police Department at Vision Bank this morning, and we very much appreciate what they do to keep our community safe," said Vision Bank President Steve Bagwell.
"We look forward to more participation from the public at these events," said Ada Police Sgt. Shane Jones.