Back to all news
Seniors brew up conversations with cops
By Laura Drinan, Hometown Weekly
Original article HERE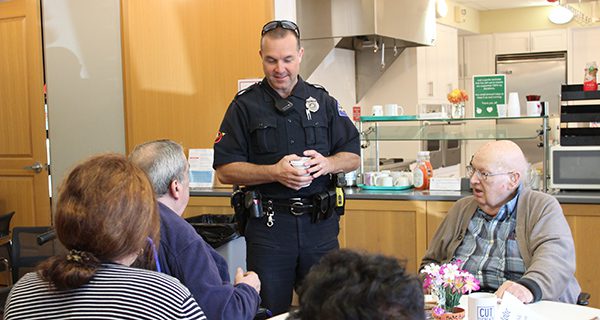 Those driving by Needham's Center at the Heights the morning of October 12 might be anxiously awaiting the week's police log to see why police cruisers were parked around the building.
Well, they weren't responding to any kind of report of a crime at the Center.
Instead they were dropping by for a cup of coffee and good conversation with Needham's seniors.
At the Center's Coffee with a Cop, officers of the Needham Police Department join the seniors to discuss any concerns they may have, answer questions, or simply converse over coffee. While several of the officers were responding to calls, two came to the Center to chat with the seniors as they waited for more officers to join.
"Last time we had a lot of people come and the entire team came throughout the day," said Officer Karl Harmon. "It's nice for them to be able to ask questions and voice some concerns they might have."
"They have the opportunity to socialize, interact, and get to know the seniors," said Aicha Kelley, the program coordinator at the Center. She hopes to host the event several times a year for the seniors to interact more often in a casual, informal setting with the town's police force.
With Officer Harmon was Officer James Wise, who grew up in Needham and mingled with the seniors before heading out to respond to a call. Others officers, such as Thomas McNiff, were able to stop by for a few minutes, too, chatting with seniors and joking about making arrests until duty called them away from the coffee break.
"It's a nice environment, very comfortable, and the officers are very responsive and approachable," said one of the seniors, who had been to past Coffee with a Cop events.
"The different age groups have different needs and different concerns," said Officer Harmon. "So, it'll be nice for [the seniors] to be able to address them and solve them."
"We just hope more and more people come and get to know our police officers on a more personal level," said Kelley.