Back to all news
SCSO celebrates Coffee With a Cop Day
By Rachel George, Gretna Breeze
Original article HERE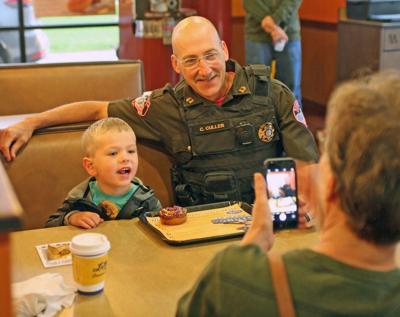 Deputies and captains from the Sarpy County Sheriff's Office gathered at LaMar's Donuts for two hours Oct. 2 for National Coffee With a Cop Day. This is the second year that SCSO has participated in the event.
This year, the department tried to promote the event in hopes of a bigger turnout.
Four children stopped by to celebrate their birthdays with officers and many more showed up in support.
"It brings law enforcement and citizens together," said Deputy Letha Feeney, community relations coordinator with the Sarpy County Sheriff's Office. "A lot of people have come out today with their kids.
"It's a really great thing where people can come out and just talk to us about anything they want. It shows them that we're easy to talk to and that you can ask us anything."
LaMar's provided a free cup of coffee and donut to all who attended. Officers offered everything from tips on getting involved in law enforcement careers to a fun look at their cruisers to those who attended.
"We've had a really good turnout," Feeney said.