Back to all news
Schererville cops share conversation with residents over coffee
By Mary Freda, NWI Times
Original article HERE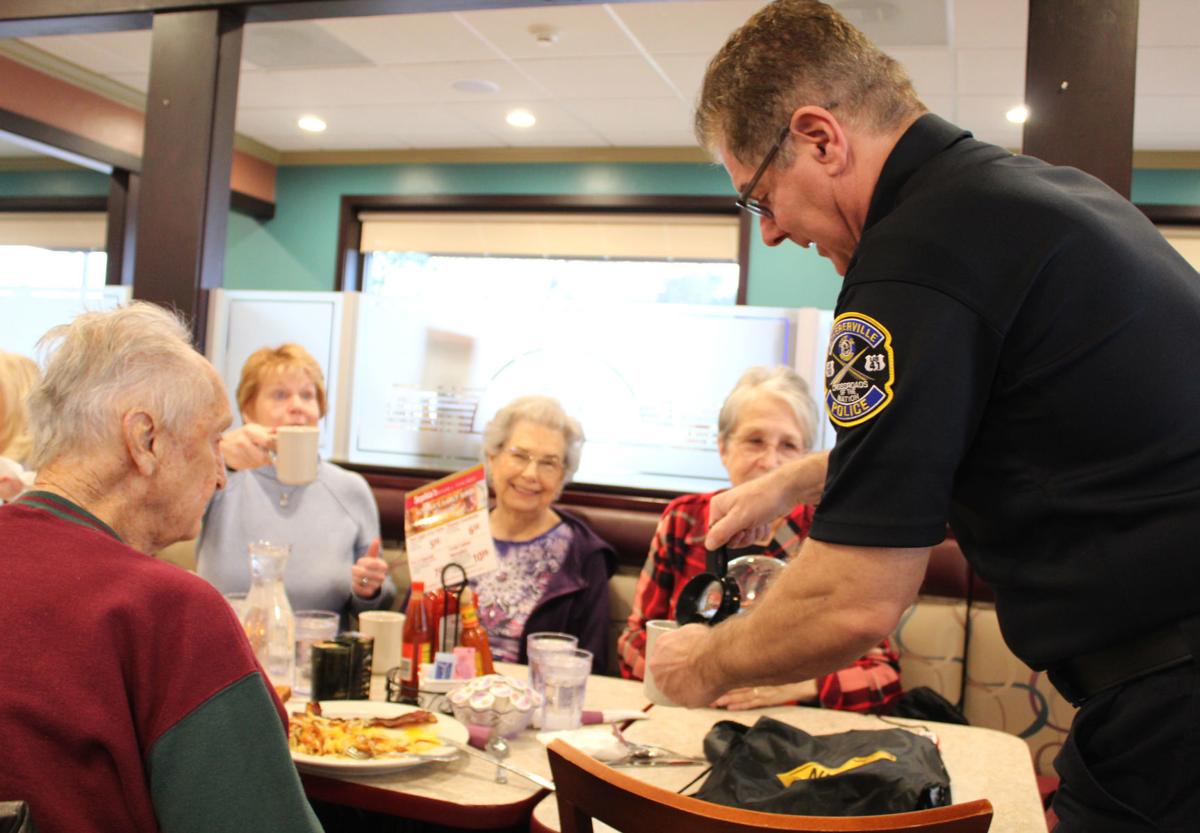 Schererville police officers chose to take their coffee (or tea) with a side of conversation Tuesday morning.
Starting at 8 a.m., about a dozen officials, including Schererville police officers, town officials and an officer with Canadian National (CN) Railway, gathered at at Sophia's Pancake House for Coffee with a Cop.
The department has hosted the program for six years and is a "novel concept" that serves the town well, said incoming police chief Pete Sormaz.
"We have several programs … and it's all about relationships with the community," Sormaz said. "We're trying to (have a place) where they can voice their thoughts and opinions openly, and what better way to do it than having coffee?"
Sormaz said he thinks participants appreciate the casual, easy-going format. While diners ate their breakfast or drank coffee, Schererville officers roamed about Sophia's, sparking conversation and pouring cups of coffee along the way.
Eric Graf, special agent for CN police, said he often shows up to community policing events to answer questions about trains that officers may not be able to.
"We travel through so many different communities. It's an important part of what we do is to have great relationships with all these police departments and the city itself," Graf said. "Anytime they do something like this, it gives us an opportunity to address questions people have pertaining to the railroad."
Schererville resident Denise Mattix and her friend said they found out about the event on Facebook and found it informative.
"They kind of give you information on how we can help them to help us," Mattix said. "We don't know what we can do that would help them to keep our city secure. I don't want to be a pest — I don't want to call about stupid things."
Mattix chatted with Cpl. Jamie Janson, Sgt. Steve McNamara and Officer Justin Juarez about her neighborhood, community resources and crime.
"How can we help?" Mattix asked Janson and McNamara.
"If you see something, just call us, and we'll check it out," McNamara said.
The officers and residents chatted like old friends catching up, with Mattix expressing her gratitude for the department — especially when it comes to officers patrolling in her neighborhood.
"I feel very safe, secure and comfortable when I see a police car coming in the neighborhood," Mattix said. "I don't feel like, 'Oh my gosh, it's a cop.' I feel like, 'Oh thank goodness, they're here to keep us safe,' because that's what they're here for."
During their conversation, McNamara told Mattix and her friend to remember to lock their car doors when the weather warms up to prevent break-ins.
"Just make sure you lock your car doors, that way no one will go through it," he said.
Coffee with a Cop is just one of the programs the department hosts annually to connect with community members. Throughout the year, Schererville police engage with residents through the Citizens Police Academy, Cop Camp, the Neighborhood Watch Program and National Night Out.