Back to all news
Police chief: "Coffee With a Cop" is a big success
By Stephen Lee, Capital Journal
Original article HERE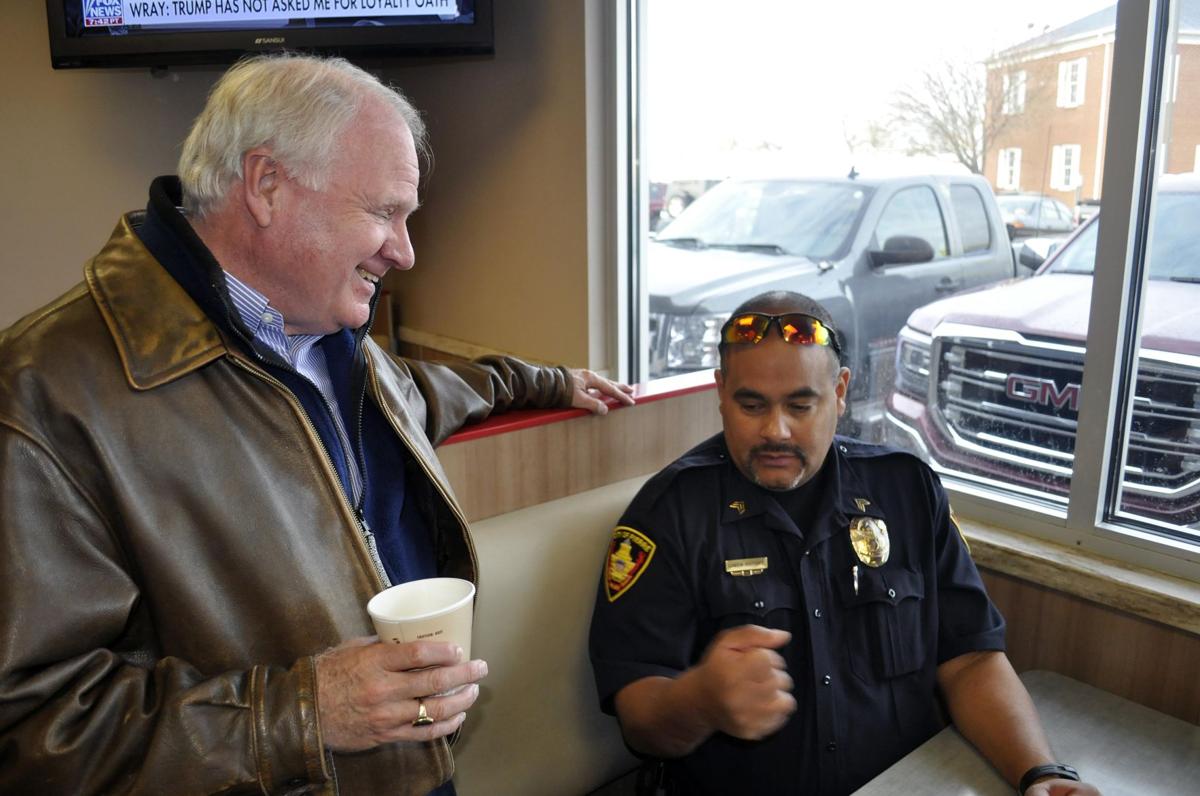 Burger King was crawling with cops Thursday morning on Sioux Avenue in Pierre.
But it was all good and not a hamburglar in sight.
It was the first "Coffee with a Cop," event for the Pierre Police Department, which invited law officers from several agencies to join in the two-hour morning meet and greet.
 The parking lot was packed, as was the restaurant, as the Burger King manager and employees poured out free coffee to dozens of citizens spread around talking it up with cops, Highway Patrol troopers, game wardens and sheriff's deputies and federal marshals.
Trooper Sarah Schumacher, who just joined the state Highway Patrol this summer, visited with a large table of people for much of an hour.
"It's always good to get out and meet people and talk," she said.
Across the room, Bill Benny, wearing a black cowboy hat, was sitting at a high table.
"This is a great thing," Benny said. "I'm here because of my personal friend here."
 Benny gestured across the table to Police Officer Drew Heaton:
 Three or four years ago, Heaton responded to a domestic violence call on Benny's block in Pierre,
 "I come out to see what was going on," Benny said.
Heaton takes up the story: "I got there and up comes that garage door and there (Benny) was standing. I walked over and said, 'Did you see anything?'"
The incident involving one of his neighbors didn't end so well for the perpetrator, said Benny, an Air Force veteran.
"But it kind of started up a friendship."
So much of police work is a kind of public relations, not just chasing and arresting people, Heaton said.
But so often the image portrayed in the news media and in television and movies is of police officers at odds with members of the public, he said.
"That's one of the reasons I got started in police work, to change that dynamic," said Heaton.
 "Coffee with a Cop" is a national program that hadn't been tried yet in Pierre, so he thought it was about time, said Police Sgt. Samson Boutchee, who publicized it. He watched the crowded restaurant and all the conversations with relish.
There were law officers from the Hughes County Sheriff's Department, the state Game, Fish & Parks department, state Highway Patrol, the U.S. Marshals Service, the state Division of Criminal Investigation and the National Guard.
Most of the citizens visiting with law officers were not youngsters and nearly all male, it appeared.
There were a couple of pastors.
"We will probably do this three or four times a year," Boutchee said. "We definitely will do it again."
Police Chief Dave Panzer made the rounds and admitted he was a little surprised at the big numbers who turned out to show some solidarity with law officers.
Nobody seemed to be complaining about speeding tickets.
"Sgt. Boutchee was pretty much at the forefront of this and made this a very successful with all his effort," Panzer said. "We received a lot of compliments from people, had a lot of good conversation."
It was a far, far away from the news that came out Thursday about the North Carolina police officer sentenced to 20 years in prison formurdering shooting to death a man who ran from him after a routine traffic stop.
"We are very fortunate where we live because we do have the support of our community," Panzer said. "We are a small community. The cops here are also your neighbors, our kids all go to school together, we all go to church together."
It means most citizens get to know law enforcement officers off-duty, in regular life, and not only when they are in uniform and on duty, Panzer said.
"People will reach out to (officers) if they have an issue. That's why we live here, I guess."