Back to all news
Outreach is joint effort for local and federal cops
By Kendal Blust, Nogales International
Original article HERE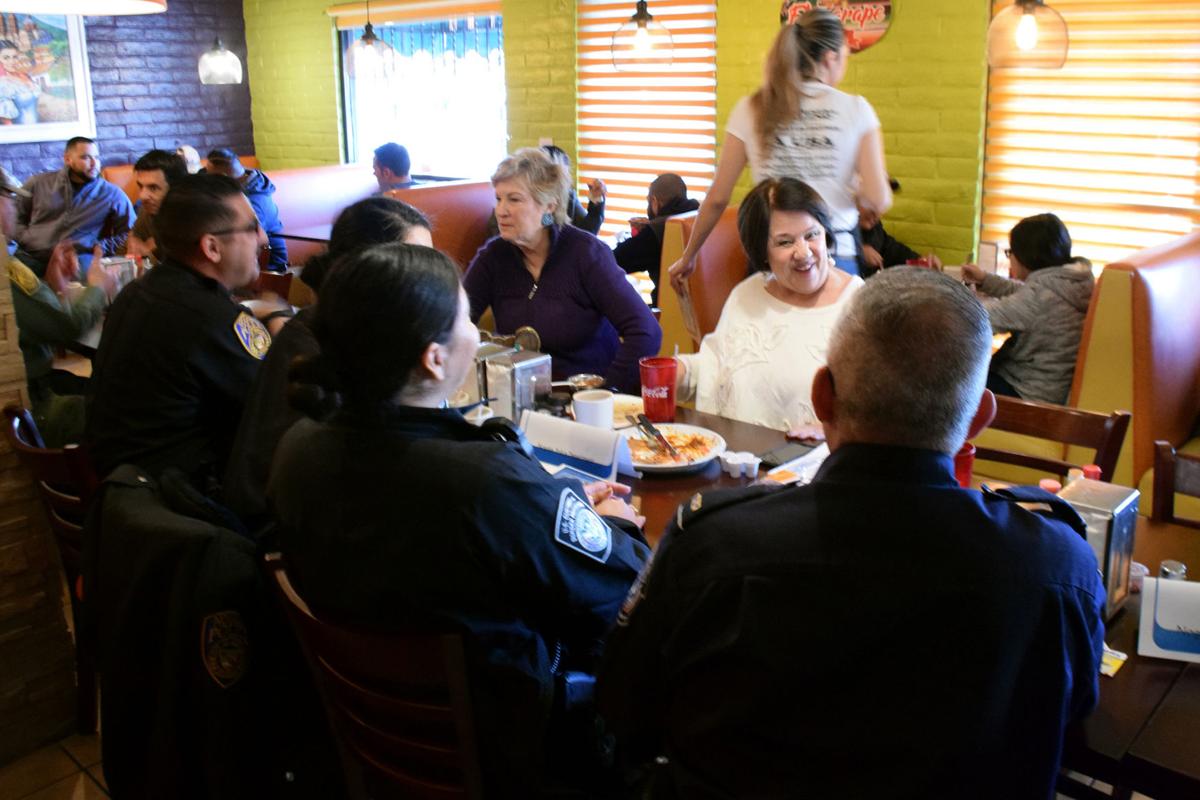 El Zarape was noisy and packed on Wednesday morning. Every one of the Nogales restaurant's tables was surrounded by diners laughing and chatting over the first meal of the day, including a row of tables in the center of the room filled with uniformed law enforcement personnel sitting side-by-side with civilians.
Through a program known as Coffee with a Cop, the Nogales Police Department has been reaching out to the community with informal coffee and donut gatherings since early 2016. In recent months, U.S. Customs and Border Protection officers and Border Patrol agents working in Nogales have also joined in on the laid-back community interactions.
"I know people do enjoy it," said NPD Officer Oscar Mesta. "We want to get to know our community, that's all it is."
Sitting with Mesta and three CBP officers, local residents Yolanda Soto and Beth Castro took advantage of the event to talk about important issues in the community and to learn more about the law enforcement officers, they said.
Soto, president and CEO of Borderlands Food Bank, which rescues produce that would otherwise go to a landfill, said the chance to sit down face-to-face with officers working at local ports allowed her to spread the message about the importance of reducing food waste.
"It's a way to transmit what we offer locally," she said.
Claudia Muñoz, a CBP officer who started working in Nogales just over a month ago, said it was a great opportunity for her to learn more about Borderlands, as well as the community, history and culture of Nogales.
Long-time CBP officer and trainer Daniel Soto added the events can also serve as a recruiting opportunity, letting locals know about the opportunities for good jobs in federal law enforcement.
"We need local people to apply, because who better than a person who has lived here," Muñoz said. "They bring specialist knowledge from the area."
At the other end of the table, Border Patrol agents said they welcomed the opportunity to introduce themselves to the public with a handshake and a friendly conversation.
Not only can they answer questions and address community concerns, said Kevin Hecht, deputy patrol agent in charge at the Nogales Border Patrol Station, but it's a chance to let people know that agents are normal people.
"Sometimes it's just socializing, sometimes it has nothing to do with work," Hecht said. "We're not always in this type of environment. Our agents are always deployed at the fence or working at checkpoints and don't have time to sit down face-to-face with the public like this."
Mesta, of NPD, added that some people are intimidated to come and talk to law enforcement, a problem he blamed for the low turnout at some of the Coffee with a Cop events. Even so, he said, he hopes that continued efforts to reach out to the community will make people more comfortable to come to the police, whether it's just to say hi or to bring up a concern.
"We want to break that barrier. Come talk to us. If you want to talk about the Super Bowl, let's talk about the Super Bowl," he said. "I want to get to know who you are, like Beth Castro, she's hilarious. We were talking about everything … That's what we're here for. I want to know who I work for."