Back to all news
LCPD has successful Coffee with a Cop event, more coming soon
By Max Kirkendall, The News Guard
Original article HERE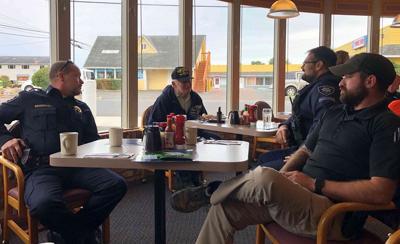 The Lincoln City Police Department participated in the first of hopefully many 'Coffee with a Cop' events this past week.
On Oct. 2, Lincoln City Police officers convened at Hilltop Restaurant for an informal meet and chat with local citizens regarding general topics around town. As a part of the national 'Coffee with a Cop' event, officers spoke with citizens, answered questions and enjoyed a good cup of coffee.
"We had several people stop by, some to just say hello, others who we had some conversations with or talked to us about community events and things of that nature," LCPD Sgt. Jeffery Winn said. "This is just the first of what we hope to turn into a regular thing."
With a modest crowed of citizens stopping by for some coffee and conversation, Winn said he hopes many more will come to future Coffee with a Cop events in Lincoln City and they hope people take advantage of the opportunity.
"Because we've never done an event like this before, we'll fine tune some things for the next time, advertise it more and be overall more prepared," Winn said.
The LCPD would like to express our appreciation to the Hilltop Restaurant and all their staff for providing the venue to make this community event happen. In addition to the numerous citizens who stopped by, LCPD had officers of all ranks in attendance including chief Jerry Palmer.
Winn said these types of events are great for positive community engagement and said that is a valuable thing to have in a small coastal town like Lincoln City.
"Overall the conversations and the reception from the public was all positive," Winn said. "Events like this are a chance for us to have those positive interactions with the community and talk about local issues in a calm and safe environment."
Although the LCPD has not set a date for the next Coffee with a Cop event, Winn said to keep an eye out for when and where the next event will be.