Back to all news
Coffee with a Cop: Coming face-to-face with law enforcement
By John Conway, News Center 1
Original article HERE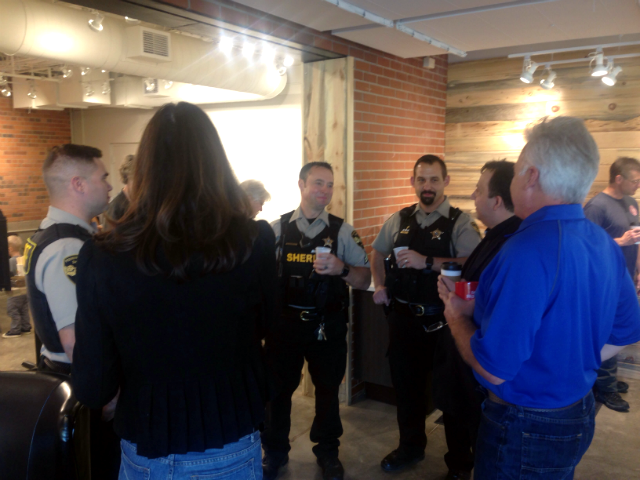 Pennington County residents had an opportunity to interact with sheriff's deputies Friday morning, over a free cup of coffee.
Most interactions that people have with law enforcement come in the context of an accident or criminal activity – stressful events that can cause rifts and a sense of mistrust between police and the general public.
However, the "Coffee with a Cop" program, which started in 2011 in Hawthorne, Calif., allows members of the general public an opportunity to meet law enforcement in a friendly, relaxed environment. Meeting face-to-face helps you get to know the people behind the badge, while addressing personal and community concerns.
"A lot of people come in just to thank us for what we do," said Deputy Trista Dupres, of the Pennington County Sheriff's Office. "A lot of people have questions about different laws, county ordinances, and things like that. A lot of people just come in and they just want to get to know us.
"We've had people that come in every single year, and we just sit down," she continued. We talk to them about their families, about their grandchildren, things like that – it's just getting to know each other, getting [the public] to realize that we're human beings as well. And behind this badge, we're just like everybody else."
Dunn Bros. Coffee on Canal Street hosted this year's Coffee with a Cop event – the third time it has been held in Rapid City. The sheriff's office plans to hold the event again next year, hopefully on National Coffee with a Cop Day, recognized on Oct. 4.