Back to all news
Bloomington Police: Positive interaction needed 'now more than ever'
By Lenore Sobota, Pantagraph
Original article HERE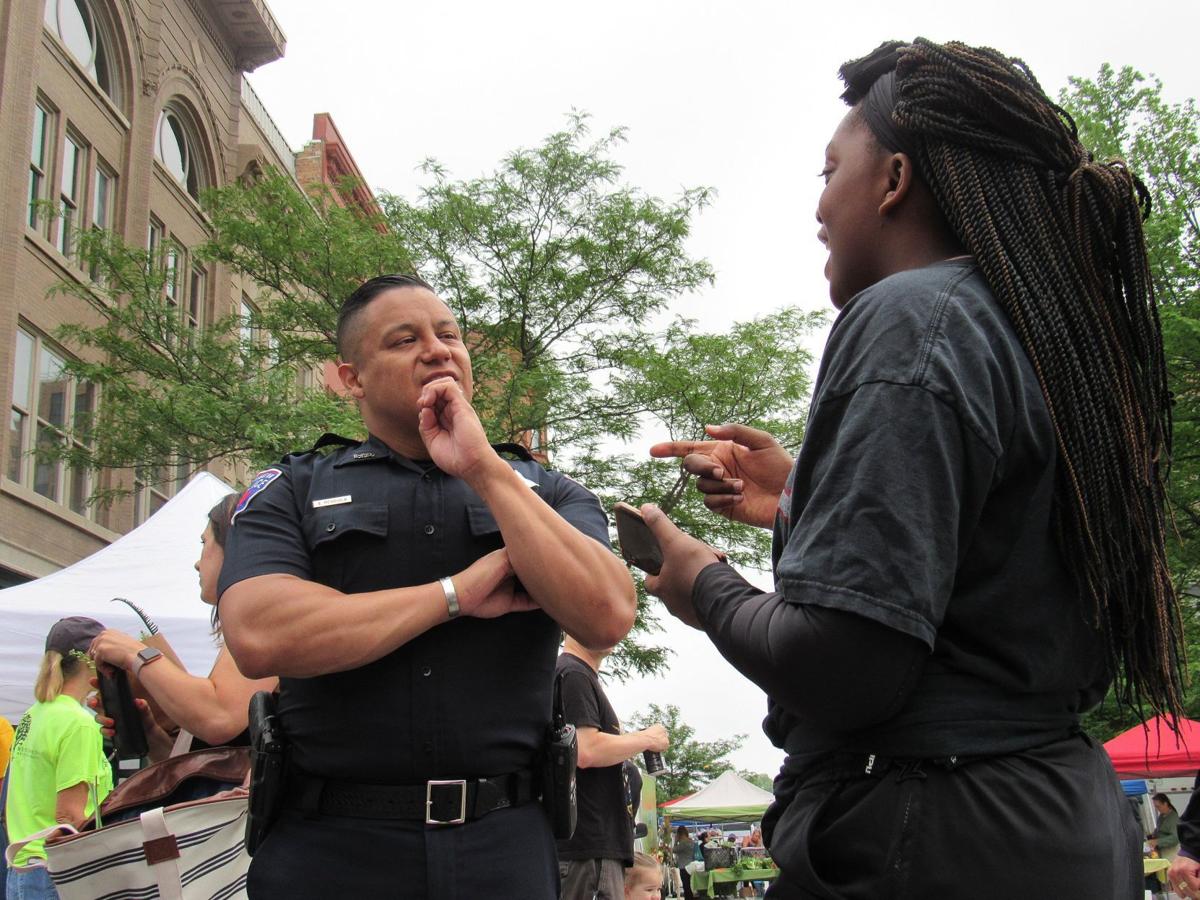 Police handed out stickers, fist bumps, coffee and doughnuts at the Bloomington Farmers Market on Saturday morning — along with the message that they are here to help.
Public outreach, such as Saturday's "Coffee with a Cop," is important so people get to know police "in a different way, with a positive interaction," said Elias Mendiola, the Bloomington Police Department's public affairs officer.
Mendiola said such public interaction is important "now more than ever."
That's not only because of national news involving police controversies but also recent violence in the Twin Cities that has left seven people dead since late April.
"We're upset as well," Mendiola said of the shootings. "We're going to get those that are responsible. … We're on the side of the victim."
The recent shootings have sparked several grassroots efforts to bring the community together.
Among them was a "Taking Back the Block" party at Sunnyside Park in Bloomington on Saturday afternoon, organized by Jesica Kaupp of Bloomington.
She said the wounding of a 4-year-old boy in the most recent shooting was "the last straw" for her.
In addition to YouthBuild McLean County, Eastview Christian Church and other organizations that helped out, Kaupp said, "random people have stopped by to drop things off," from extra ice to craft activities to a kiddie pool.
"This is exactly what our community needs: more people to be there for our kids," she said.
Several candidates for office attended the block party, including Shayna Watchinski of Bloomington, a candidate for McLean County Board.
She said people are looking for ways to help in the aftermath of the shootings and the block party provided that opportunity.
"Jesica is a good example for people who think one person can't make a difference," said Watchinski.
Other scheduled activities in Bloomington include a community meeting scheduled for 2:30 p.m. Sunday at Grace Deliverance Church, 622 S. Clinton St., and a prayer walk at 8 p.m. Sunday from Grace Church of the Nazarene, 610 IAA Drive, to the 300 block of Riley Drive, where three men were killed Monday and the boy wounded.
Although "Coffee with a Cop" was already planned before the latest shooting, Mendiola said it was a good event to meet with people.
Members of the Normal Police and McLean County Sheriff's departments also attended.
"We get a lot of great interaction at all age levels, which is awesome," Mendiola said of the farmers market. Police also offer public outreach at schools and locations such as the Boys and Girls Club.
Mendiola said such public forums are important not only for police to share their perspective but also to hear the perspectives and experiences of others.
Among those who stopped by the booth was Yasimine Hamilton, a 17-year-old from Bloomington who is interested in a law enforcement career.
Hamilton, formerly a lieutenant in the Bloomington Police Explorer Post, said Twin City police are very community-minded.
Jenifer Milligan of Bloomington stopped by so her 6-year-old daughter could check out the police car on display.
"We are extremely appreciative of all you do," Milligan told Normal Police Officer Brian Williams, who was handing out stickers and explaining how his body camera works. "Events like this are wonderful for the kids."