Back to all news
Schererville Coffee with a Cop opens communications, builds rapport with residents
By Phil Wieland, NWI Times
Original article HERE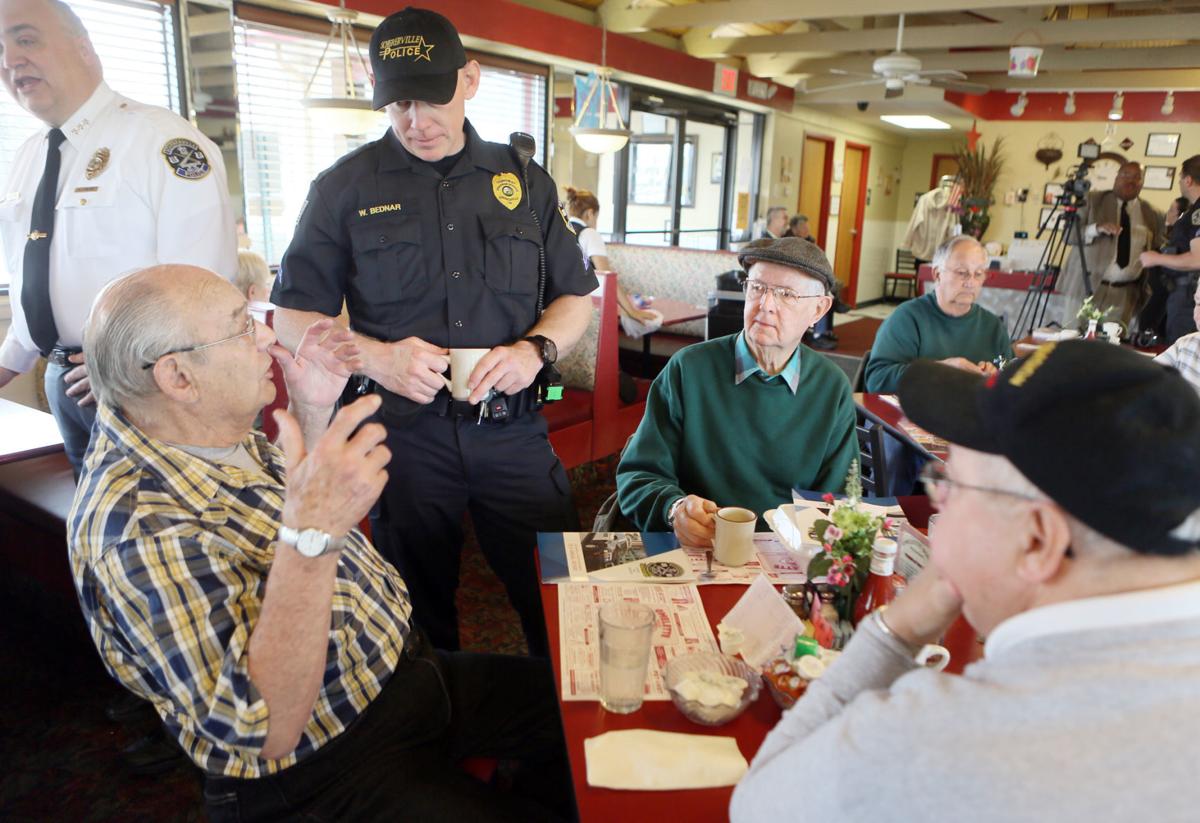 Schererville residents can enjoy a different sort of accompaniment with their morning coffee: A police officer.
The town's police department started the Coffee with a Cop program in 2012, Police Chief Dennis Zagrocki said.
"We knew there were some departments doing this around the country, and we wanted to try to see how well it would work and if it would be accepted," Zagrocki said. "And it was. The businesses love it. They like to see the interaction with the police, and it's good PR for them, too."
Zagrocki said he tries to schedule two or three of the Coffee with a Cop sessions each year. Originally the department hoped to do it quarterly, but that wasn't possible with so many programs going on during the year.
Coffee with a Cop events are held at different restaurants each time, and four to six officers will participate. Zagrocki said he often attends along with others in the department, and the town manager and maybe a councilman or two.
The officers spread out through the restaurant, pour customers' coffee (yes, they really do that) and chat with them. Zagrocki said the officers tell the customers about the various programs the department has and listen to complaints and make note of any tips.
"Most of the time they are glad to see us," he said. "We guarantee them we are not there because of any problems. We're just there to meet and greet and answer questions or take suggestions. We are usually there from 8 to 10 a.m."
The most recent one was at Toast & Jam on 73rd Avenue. It will be a couple months before the next one because of the Summerfest, the D.A.R.E. graduation and the police memorial.
Zagrocki said the Coffee with a Cop sessions are a good way to pass along information about things including the crime watch meetings, which are held twice a year, and invite people to attend.
"I usually like to get officers there from the patrol division and the investigative units so, if someone brings up something to report or a concern, they will be there to hear them. A lot of times we get tips that there could be drug trafficking in a neighborhood, so we will check on it. It's like the crime reporting hotline, but you don't have to make the call.
"We want to make sure we have a good rapport with the citizens and let them know we are there to help them."
Most of the comments are about traffic problems, such as speeders and people ignoring stop signs. He said police check the complaints out. Officers encourage residents to use the hotline for suspicious activities.
"Mostly they thank me for coming out and for having this program," Zagrocki said. "They are glad to see we are community oriented, and they compliment the police and say they feel protected.
"We want to keep the relationship open and the communication with residents open. That's what we want to show, that we are there with the citizens. We are there to serve them."
And it starts with the coffee.