Back to all news
Prosecutor and police put focus on addiction at Coffee with a Cop
By Claire Lowe, Press of Atlantic City
Original article HERE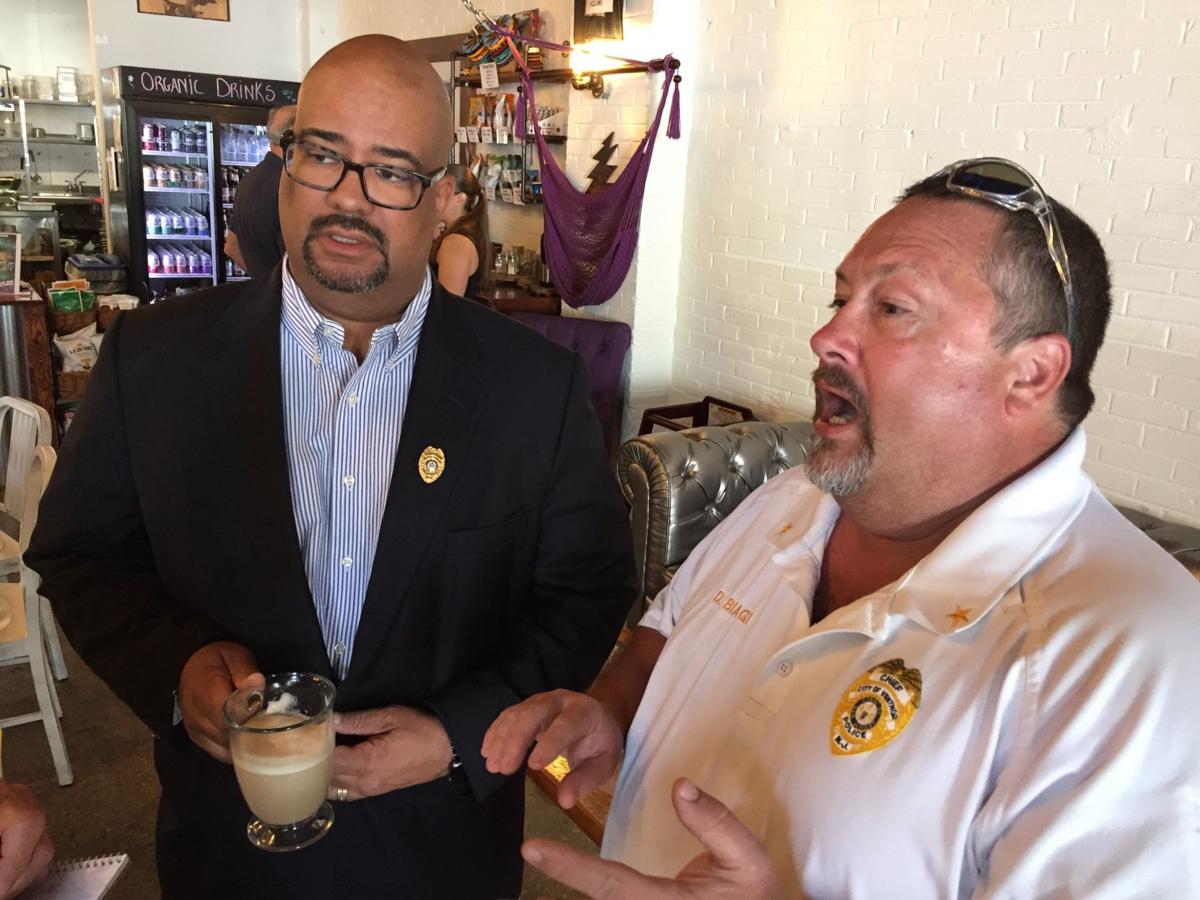 A bustling crowd filtered through the Enlightened Cafe on Ventnor Avenue on Saturday morning as Atlantic County Prosecutor Damon G. Tyner sipped on a latte.
The cafe, where 100 percent of the profits are donated toward scholarships for those who cannot afford treatment, offers coffee and locally sourced meals. But Tyner wasn't there for breakfast. Instead, he and police officers from Ventnor were hosting a Coffee with a Cop event to hear from the public about issues and concerns affecting them.
"One of the most effective ways to understand the various issues affecting our county is to speak directly with the people," Tyner said.
Tyner said the location of Saturday's public event was purposeful, as South Jersey is suffering from an opioid epidemic.
"It's not limited to any age demographic," he said, noting the obituaries that regularly appear citing addiction as the cause of death.
Tyner said he recently lost a former classmate from high school to addiction, and he has lost others in the past.
"We as a society have to get really fed up about it," he said. "We are still blaming people for their shortcomings and we have to get past that."
Donna Weaver, spokeswoman for the Prosecutor's Office, said addiction is an issue Tyner and his team take seriously.
Weaver noted that from 1988 to 2016, the Atlantic County Prosecutor's Office brought 16 strict liability charges for drug-induced death in the nearly 30 years the law has been on the books. But since August 2017, Tyner, who was appointed in March of last year, the office has charged 13 people with first degree strict liability.
Carly Cakert, 28, of Ventnor, and Salma Hussein, 29, of Atlantic City, were enjoying breakfast and were happy to run into Tyner on Saturday.
"It's nice he came here because of the fact that this place helps local recovering addicts," Cakert said.
"It helps the Atlantic County community know what's going on," Hussein added.
Atlantic County Freeholder Chairman Frank Formica and Freeholder Maureen Kern also attended the event.
"It's important to connect with people and see what their thoughts are," Kern said.
Formica said the issue of addiction transcends law enforcement: "We are involved very strongly in coming up with ways to address this very unique problem."