Back to all news
Lawrenceville's Pizza with Police turns out large crowd prior to rain
By Isabel Hughes, Gwinnet Daily Post
Original article HERE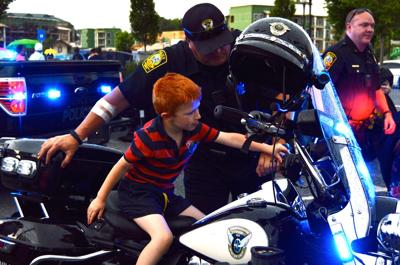 Huddled under umbrellas, families lined up outside one of the Lawrenceville Police Department's tents Thursday evening, waiting to look at the bulletproof vest and tool belt on the table.
"Can I hold the gun?" one boy asked Officer Chris Carey, who replied with a smile.
"No, we have to pretend it's a real gun and keep it in (the holster)," Carey said, as the rain began to pick up.
Though Lawrenceville's fourth annual Pizza with Police was canceled due to rain less than an hour into the event, this year's crowd was larger than last year's, said Lawrenceville Police Department spokesman Lt. Jake Parker.
"I think (that's because) we were able to get the word out, and after last year's event, there was a little bit of, 'Oh, I missed it, I didn't know,'" Parker said. "This year it was promoted ahead of the curve, and I think it helped us a lot."
The annual event, which provided attendees with slices of Cosmo's pizza along with dessert from the Blue Rooster Bake Shop and KONA Ice, is intended to unite the community in an evening of fun, Parker said.
"It's an opportunity for the officers to get to meet the citizens, and it's an opportunity for the kids to come out here and see the officers' equipment," he said. "We have our K-9s here, our Mobile Command Center is here, and this year we had the District Attorney's Office joining us and the Snellville Don't Drink and Drive car. We're just trying to get everyone in the community to meet us, to play with our equipment, and the kids love the dogs."
A twist on the nationwide program Coffee with a Cop, which brings together law enforcement officers and community members to discuss issues and learn more about each other, Lawrenceville's event is intended for both parents and children, Parker said.
"Like Coffee with a Cop, it gets us out of that formal setting, where we can laugh and joke and answer questions directly, and have that personal contact with someone," Parker said. "But Coffee with a Cop is an adult environment and often held at a time of day when only adults are out, so this gives us an opportunity to interact with parents and kids at the same time, which is important to us."
That interaction was apparent even as the rain poured down Thursday evening; together, police and families took shelter under tents.
"In a lot of cases, like Coffee with a Cop, it's just parents meeting with us, and then if we go speak at an elementary school, it's just the kids meeting with us, and they're not meeting together," Parker said. "For us, it's important that we get to meet everybody, because the kids will think of a question Mom and Dad didn't think of and mom and Dad will think of a question the kids didn't think of."
The city of Lawrenceville has not yet said whether the event will be rescheduled. This is not the first time city events have been canceled due to weather.
In 2017, Lawrenceville's annual Christmas parade was canceled because of a winter storm that dumped snow on the area on the day of the parade.
This year, too, the parade was canceled, though due to rain.