Back to all news
Building relationships
By Victoria Villanueva-Marquez, Sun North Port
Original article HERE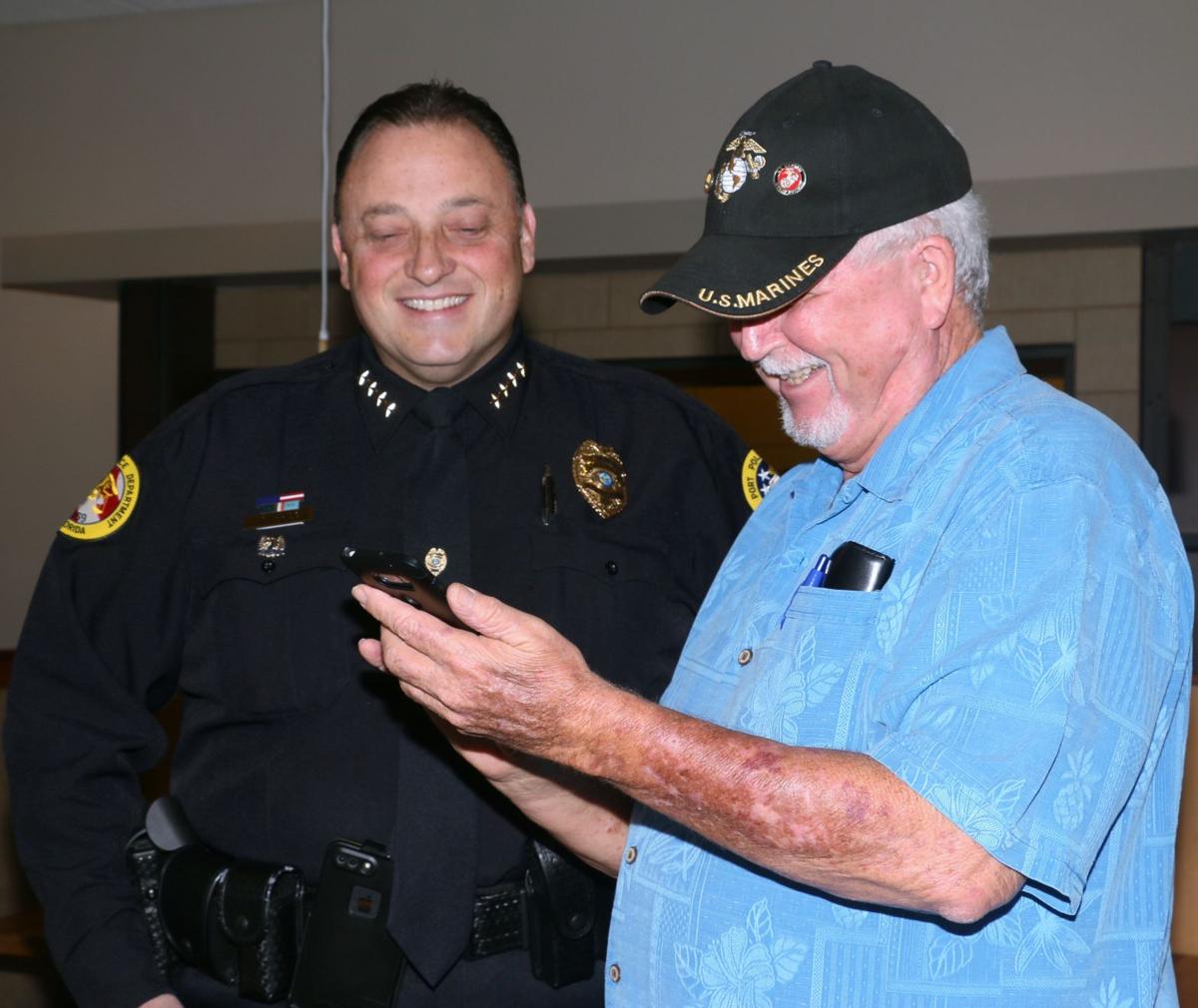 John Adelman was curious to meet a few North Port police officers.
Adelman, who retired from the Springfield Police Department after 22 years of service, moved to North Port last August.
Like nearly a dozen other residents, he attended an event called Coffee with a Cop on Monday afternoon at Panera Bread to learn more about how the local police department operates.
He sought to get a few questions answered: How many officers are employed by the department? And what police districts are the officers assigned to?
Officers dotted the restaurant's dining area, many of them already chatting with residents.
North Port Police Chief Todd Garrison opened the door for Adelman as he walked inside. Although Adelman was eager to ask his questions, he first sat down at a table. He looked around, smiling.
"It brings back memories," he said.
Garrison stressed the importance of building relationships with residents, noting that it leads to an overall safer community.
North Port was ranked among the Top 20 safest cities in Florida this year, according to the National Council for Home Safety and Security.
Garrison credited this feat to the residents.
"I think it's the people who live in North Port," he said. "People pay attention to their neighborhoods. When you have a community that's involved, it's easy to detect crime."
Will Cassada, a retired resident, said he feels safe in the city due to the presence of law enforcement.
"I think it's one of the safest places around," he said. "I know there's some incidents of crime, but I feel safe here."
Paul Harvey, commander of the department's special operations division, pointed out that some residents hesitate to contact police with information pertaining to a crime because they are afraid of getting involved.
He noted that events like Coffee with a Cop help some feel more comfortable sharing their concerns.
"We learn a lot about the neighborhoods this way because people are more inclined to tell us things," Harvey said.
He added the event serves as an opportunity to remind residents to contact police if they witness suspicious activity.
"A lot of people, if they see something unusual in their neighborhood at 1 or 2 in the morning, they don't call the police," Harvey said. "They usually tell us about it two or three days later when we could've solved the issue right then and there if they would've just called us."
Both Harvey and Cassada noted that many residents don't often have the chance to interact with an officer. They emphasized the fact that those interactions are crucial to building rapport with the community.
"You come to one of these things, you chat with these guys and you see how they interact with people," Cassada said. "So next time you're driving down the road and you see a cop, you kind of have a different attitude toward them."