Back to all news
Dozens attend second Coffee with Cops event in Winston-Salem
By Jenny Drabble, Winston-Salem Journal
Original article HERE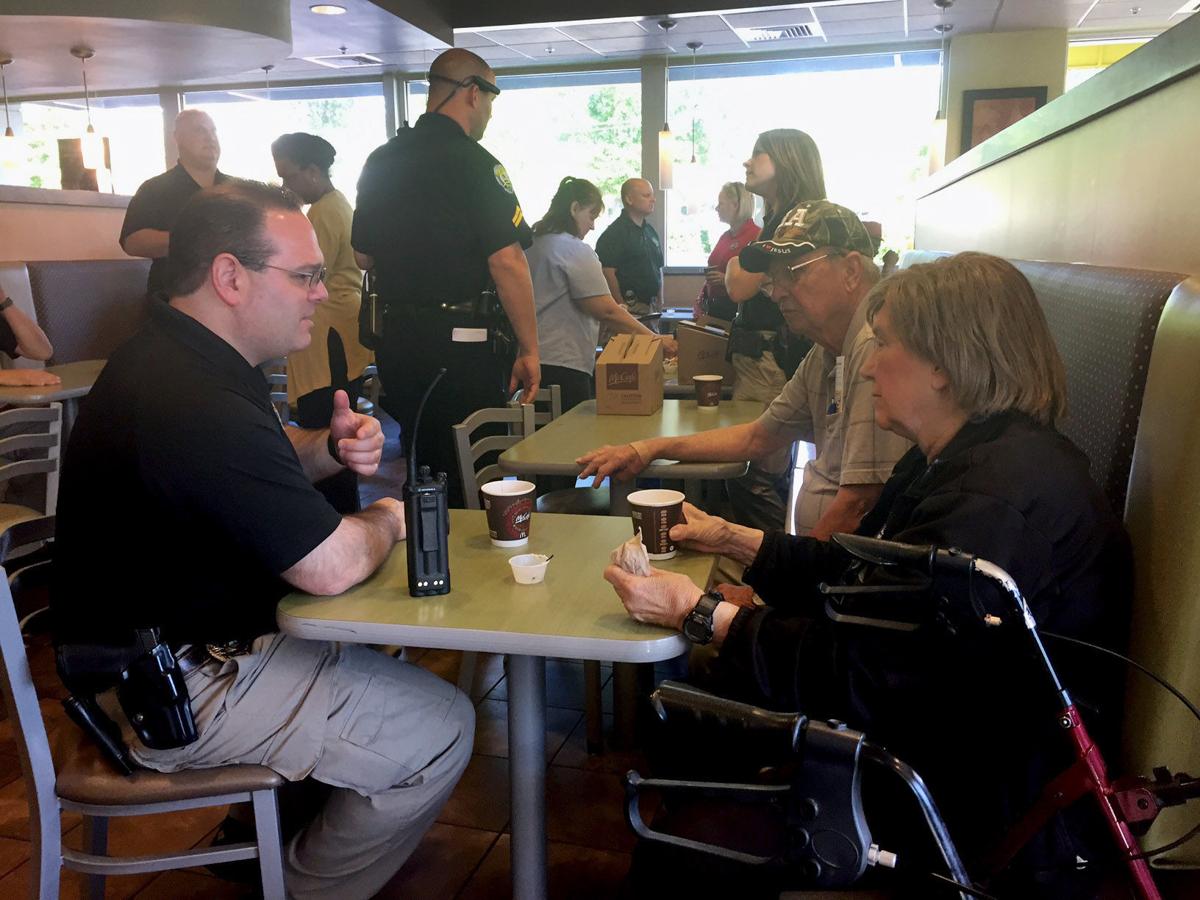 The train of police cars in a McDonald's parking lot Tuesday wasn't an indication of something wrong, but instead an indication of a promising future.
Winston-Salem police officers shared laughs as they chatted with community members over free coffee and cinnamon rolls at the McDonald's on Martin Luther King Jr. Drive Tuesday morning.
"We want to meet community members — not just when they're in a crisis or a bad situation — and interact with them in a positive way," Sgt. JJ Thompson said.
Tuesday marked the city's second Coffee with a Cop following on the heels of the pilot event at Whole Foods on Miller Street that drew at least 75 residents last month.
Coffee with a Cop events are held across the country as informal gatherings that give the public a chance to meet officers, cultivate relationships and share concerns.
"I was able to tell them some of the problems in my area, so I think today has been very fruitful," said Jeanne Williams as she dined with fellow resident Willie Dillard. "This is great."
The 10 police officers at the McDonald's spoke with dozens of people as kids raced around the restaurant with stickers and coloring books courtesy of the police department.
Sgt. Stan Karboski said the events have been encouraging and a good community engagement tool.
"Everyone has been exceptionally positive," Karboski said. "We didn't know how this was going to turn out, but the one thing we did know is it's not going to work if we don't try."
McDonald's distributed 4,000 flyers ahead of Tuesday's event.
"We thought it would be a great thing for the community, especially with our foot traffic," said KT Tompkins, director of operations at the McDonald's. "It's nice to be able to put a face to a name and get the conversation going."
The Coffee with a Cop events are part of a series of community engagement initiatives, which include trust talks, lunch and learns and reading to kids at the Salvation Army.
The police department will also participate in its first-ever baseball game against residents at retirement community Creekside Terrace.
"It's all about bridging gaps and meeting the people where they are," Karboski said. "We've been super pleased with it all so far."
Karboski said he foresees Coffee with a Cop as a monthly event, traveling to different parts of the city and held at different times of the day to accommodate different schedules.
The next Coffee with a Cop will be held at the Starbucks at 5980 University Parkway from 6 to 8 p.m. on June 7.
Bob Litaker, who has lived in the city since 1961, has attended the first two meetings and plans to attend as many as he can.
"We have the greatest police in the state, so this is just marvelous," he said. "It gets the word out that police really care. That's what's important."